Monday, 25 July 2011 15:14
After a few weeks of being under the weather, K9 Morgan passed away this morning.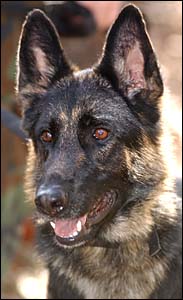 A few weeks ago Morgan was diagnosed with hemangiosarcoma. Hemangiosarcoma is a rare, rapidly growing, highly invasive variety of cancer that is very common in German Shepherds. Earlier this morning, July 25, 2011,  Morgan started to have serious complications and began to bleed out. The decision was made to not let her suffer any more.
Morgan was born on June 16, 1999 and was one of the two original canines on the K9 Task Force. She had extensive training in cadaver location (her specialty), scenting and trailing of persons, collapsed building searches, rappelling, as well as water scenting (from aboard a boat or on shore). During her active time on the team she found many lost and missing persons, assisted local law enforcement in helping track down felons and locating the remains of the deceased.
During our team's mission at the World Trade Center K9 Morgan and Chief John Frank took a terrible fall together. John fell about 10 feet total breaking his arm and Morgan fell nearly 30 feet and was knocked unconscious. With help from the Suffolk County SPCA, Morgan was awake and ready to go back to work about 6 hours later. When the team visited the WTC site in Sept 2002 Morgan began to have trouble walking. After some tests and talking with the team's vet, it was found that Morgan was starting to have some serious hip trouble again from her fall a year earlier at the WTC site. On October 4, 2002 she was officially retired.
In September 2005, Morgan, John and Jason came out of retirement for a few weeks of work to assist New Orleans and the Gulf Coast after Hurricane Katrina.
Since 2002 she has lived the relaxed life in the care of Dee, her favorite vet assistant. Dee has been taking care of Morgan since she was a puppy. We knew of no one better to let her enjoy her retired life with. Morgan got to spend the days chasing toys and taking up space on the couch. Though every now and then K9 Morgan would take Dee on an adventure though the woods during their daily walks.
Today K9 Morgan's handlers John Frank and Jason Berrang are living in San Francisco Bay area of California working in the private sector. Dee is now working at a private veterinary clinic in Georgia doing what she loves, taking care of the animals.
You can reach members of the K9 Task Force at:
Online: http://www.k9taskforce.com
Twitter: @K9TF